Start collecting reviews if you haven't already. 5 effective ways to do it.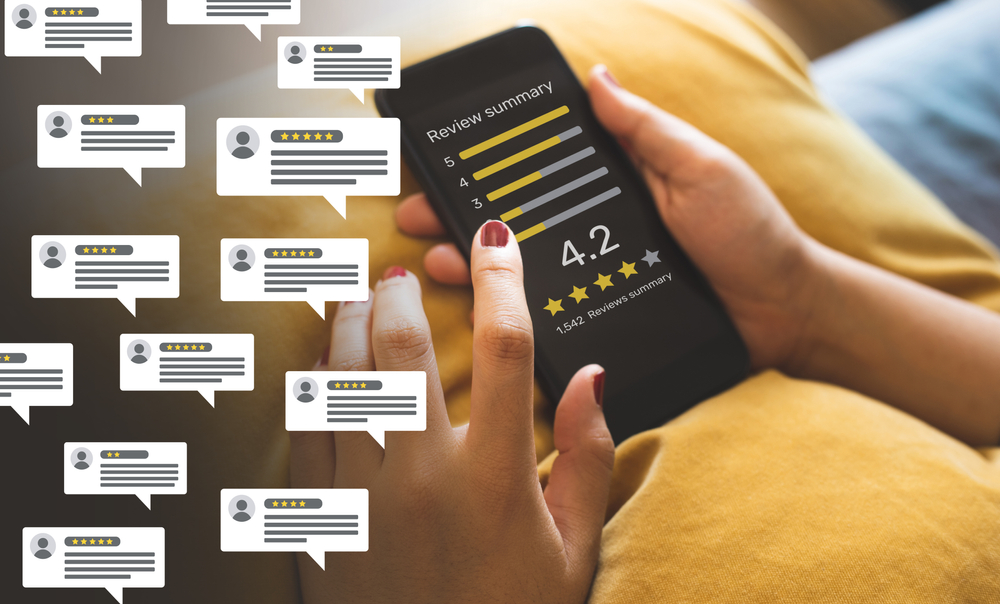 Introduction
It's no secret that online reviews can either grow a small business or make it fall. According to the 2022 edition of BrightLocal's Local Consumer Survey, 77% of consumers "always" or "regularly" read reviews when browsing for a local business. Furthermore, 89% of consumers are "highly" or "fairly" likely to use a business that responds to all of its online reviews. Most interesting 81% of consumers use Google Maps and Search to evaluate and discover a local business. If you don't see the need to collect online reviews, you're missing out big time on an opportunity to scale up your business.
In this blog article, we will explain what customer reviews are. Later, we will show you why they're such a powerful marketing tool. Lastly, we will give you seven tips to efficiently and effectively collect online reviews.
Now, let's get this rolling!
Customers Reviews: What they are and why they are important!
Customer reviews are the feedback left behind by customers after an experience with the products and services of a company. This feedback can either be positive or negative, depending on the experience of the customer.
Furthermore, the importance of reviews for a company cannot be overemphasized. It helps to provide insight into what is barely working, what works well, what doesn't work at all, and what needs to be improved. Online customer reviews are particularly of importance because they can easily be accessible to any prospect considering patronizing a brand.
Before now, prospective customers had to rely heavily on private recommendations from people or look over a paper directory to find companies in their area. Today, that long journey is no longer needed. The requirement instead, is to type a few keywords into a Google search engine and a long list of businesses that match their needs will pop up. When this list is presented, it will include customer reviews. With these reviews (good or bad) prospects can make an informed buying decision.
The benefits of collecting online reviews are numerous. Some of the most important ones include:
Benefit #1
Helps to generate new business – According to the report from BrightLocal's study, over 70% of brand users say that positive online reviews are an extra push for them to trust a small business more. Also, 40% of these consumers say that every time they encounter a company with positive customer reviews, their chances of subscribing to what the company offers, increase. Hence, reviews help to generate new leads and more patronage.
Benefit #2
Online customer reviews help to build trust and credibility – Today, prospective customers receive tons of marketing emails and messages from different companies. As a small business owner, it's important to stand out from other brands and make customers hooked to you. To stand out, use reviews. Most especially positive online reviews of customers' experience with the business.
Benefit #3
Online customer reviews show what is not working, what needs to be improved, and what is already working. Reviews are valuable to show why a company's growth is either stunted or flourishing. It shows what customers are happy or unhappy with so that relevant adjustments can be made.
What kind of Reviews should you be collecting?
• Capture only sincere and genuine reviews.
Buyers will jump on board to buy if reviews are expressed in a way that reads honest and factual. This is why you should collect reviews only from actual customers. When you do this, people get a true insight into what your product is really like from a source they can trust.
• Collect and share different categories of reviews.
According to research done, people read an average of seven reviews before deciding to trust a brand. People are more likely to believe you sell high-quality goods if you have a variety of reviews. In addition, having reviews in different varieties emphasizes that the reviews are real, authentic, and reliable.
• Balance quantity in reviews with quality
It is critical to prioritize both the quantity and the quality of reviews. From a 2015 study published by Northwestern University, the ideal number of reviews to compel buyers to buy depends on what they get in return. You don't need as many when they go into greater depth and are longer. But in a situation, where they are quite short, you require more.
• Accept negative reviews.
You do not need all reviews to be overwhelmingly positive to benefit your company. From a completed survey done, prospects are more inclined to buy a product with a 4.2 to 4.5-star rating than a product with a 5-star rating. The reason is that perfect scores make customers doubtful. However, when someone provides a negative review, it increases buyers' trust in what everyone has to say.
Having explained the importance of collecting online customer reviews, let's give you some tips for doing it effectively.
Here are seven tips for collecting online reviews:
Tip#1 Don't make the collection process difficult
People already have difficult tasks to do every day. Leaving a review should not be one of them. Hence, do not make it hard for customers to leave reviews. For instance, incorporate links to customer review sites on your website and your email marketing software. Furthermore, don't just receive customers' feedback and say nothing. Instead, respond appropriately to the reviews (whether positive or negative).
In addition, appreciate and value customers' feedback on your business. For positive reviews, thank them for speaking up and mention to consistently improve. For negative reviews, sincerely apologize and recommend a likely solution.
Tip#2 Collect reviews from multiple sources
Arrange your business to collect reviews from more than one review website. Also, social media platforms are numerous and available to be maximized. Hence, use multiple sources to show prospects a wide range of views of your company.
Tip#3 Push satisfied customers to leave positive reviews
No one will be more delighted to leave a review for your business than satisfied customers. Hence, be on the lookout for them, so that they can be encouraged to leave reviews. How can this be implemented? Simple! Follow-up first-time buyers or regular customers will email. Offer discounts in exchange for leaving a review (positive reviews).
Tip#4 Display your online customers' reviews prominently
Having learned that reviews are a vital tool to grow business. Why should any business be gentle about using them? After collecting some online reviews, display them prominently. Showcase them on your website, through email messaging, and through other marketing materials. Let prospective clients see that you're proud of your company's results shown through customer satisfaction.
Tip#5 Manage your online reputation
It's common to hear that "people's opinions do not always matter". In business, this is far from the case. A sound reputation can increase how customers respond to your requests (this time for reviews). Hence, it's crucial to take steps to manage your online reputation. Don't respond carelessly to a negative review and monitor every word customers are saying about your business online.
Final Thoughts
With online customer reviews many small and medium businesses have improved their overall growth.
However, music studio and sports academies find collecting online reviews a challenge. Is your business in this category? Well, don't be bothered anymore.
If you follow the crucial tips explained in this post, collecting online reviews to generate new leads, build credibility, and improve customer satisfaction will be easy. Alternatively you can get a free demo for TinyWhale that can run the ratings & reviews engine out of the box for your business, even when you are on holiday.
Don't wait any longer – start collecting reviews today!
Thank you for reading!
Feel free to share this blog post and drop questions or contributions in our comment section.
Categories
Featured Posts